KANAN HONEY BRANDING & PACKAGING
YUCATAN, MX.
OPPORTUNITY: Working with small Maya communities to create packaging and identity designs to promote ecologically sustainable businesses in the Yucatan region of Mexico.
RESPONSE: My interest in Design for Good and teaching hands-on social change was born during my work as a visiting assistant professor at the University of Florida. Faculty collaborator Maria Rogal and I worked with two groups of students over a two-year period. We traveled to Mexico, met with local Maya cooperatives and worked with them to create packaging and marketing strategies to promote their handmade, artisan products.
Imagery, recollections and stories collected during our visit were used to drive the visual cues for this project. We referenced the authentic nature of roadside signage found in the Yucatan as well as the bright colors and bold simple shapes of the ancient Maya architecture. In order to sell the products in local tourism venues a safety band was designed to assure customers of the product purity and the care taken in bringing the product to market.
In the summer of 2012, I was asked to design a small hang-tag for the Kanan Cooperativa that would tell the community story and promote their honey. Work for Kanan is on-going.
TELLING THE STORY OF THE CAHABA RIVER
SAPPI GRANT PROJECT
OPPORTUNITY: I received a SAPPI Ideas that Matter grant to produce a book, video and DVD. The Blueway Identity project by BLOOM Studio was the basis for the grant proposal. The book will be used to educate and promote the river as a piece of natural heritage that should be protected and designated a National Blueway.
RESPONSE: The ninety-two page book tells the story of the Cahaba River by focusing on ten people who have been touched by the river in a profound way. Stories reference broad topics; historical, conservation, folklore, cultural heritage and eco-tourism on the river. Each story is paired with its geographic location on the river and presented in the order one might encounter while physically traveling from north to south. As the reader moves through the book they are also traveling down the river.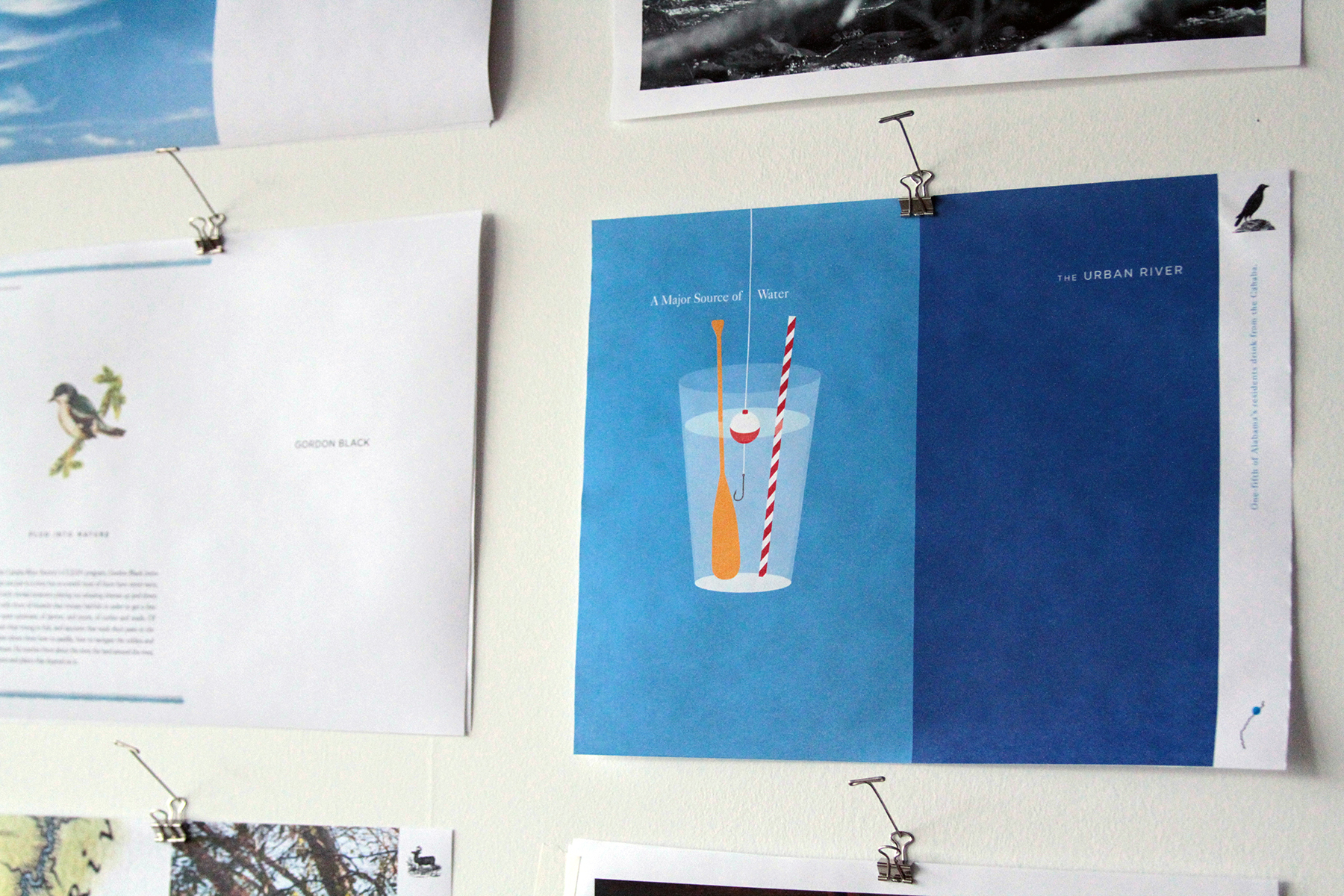 HUMMINGBIRD TRADING CARD
AIGA PROJECT
OPPORTUNITY: Creation of a trading card for the AIGA Birmingham chapter at the National Conference.
RESPONSE: The trading card references the longtime railroad heritage that surrounds Birmingham, Alabama. The Hummingbird Express was a famous L&N // Louisville and Nashville train that ran between Chicago and New Orleans. The simple colors and mis-printed registration give the card a vintage/historic feeling. This card won a SILVER ADDY for the arts and sciences category in 2011.